Vapor Barriers:
VAPOR BARRIERS ARE APPROPRIATE IN THE VAST MAJORITY OF COLD INSULATION APPLICATIONS
An effective Vapor Barrier System can be achieved by (in order of effectiveness/cost):
Factory-applying a vapor barrier sheet adhered over the insulation, with a Self-seal adhesive lap
Factory-applying a PermaCast (0.02 perm) coating over fittings (elbows, tees, etc.)
Field-applying a vapor barrier sheet over the installed insulation, held in place with tape
Field-applying a zero-perm mastic over fittings/pipe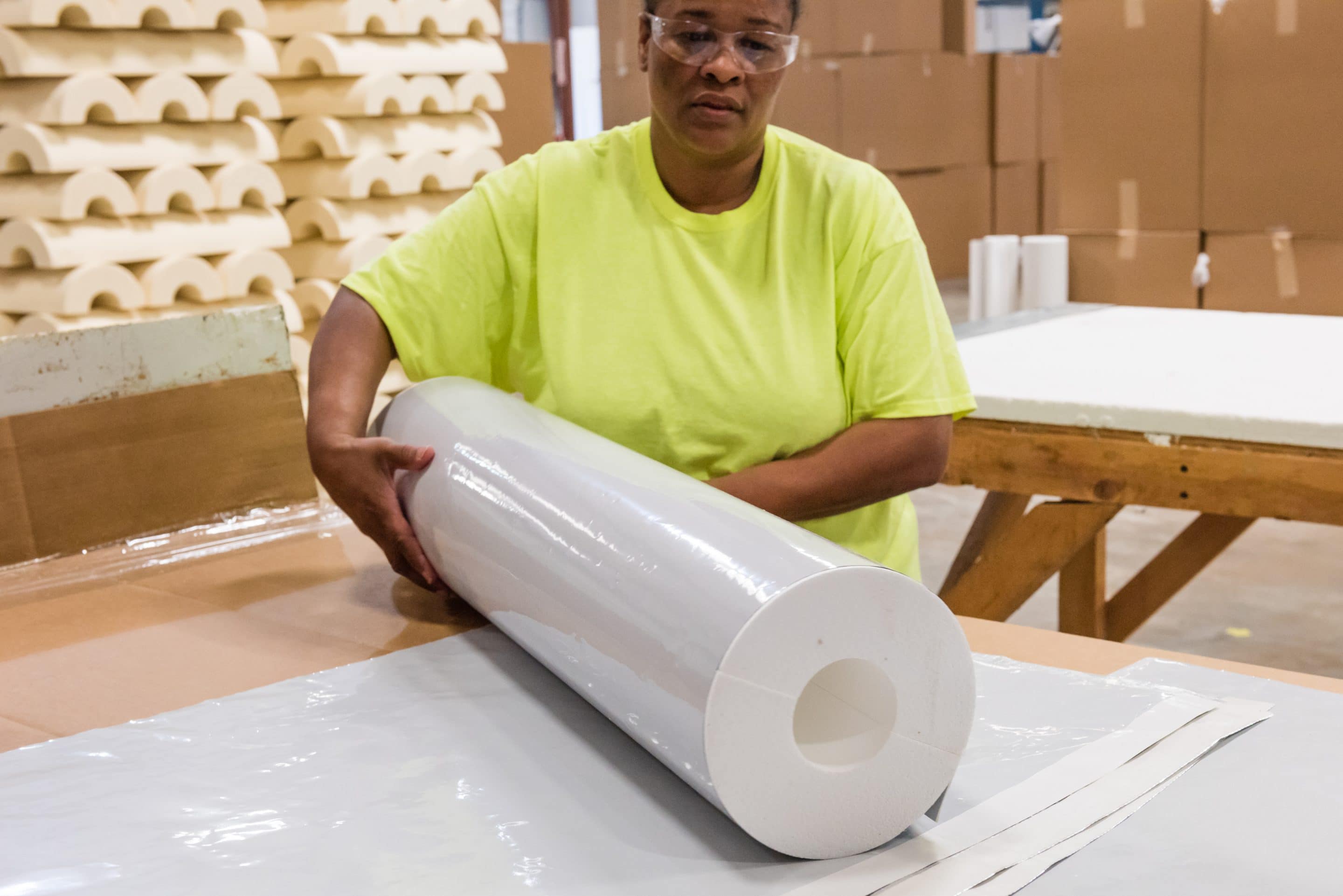 PermaTherm has developed the most resilient and cost-effective approach to Vapor Barriers available today. Our methodology advocates the use of our PMZ vapor barrier triple layer vapor barrier (mylar-aluminum-mylar) shop-adhered to the outer insulation surface with a Self-Seal-Lap (SSL) that overlaps the longitudinal seam. Installation instructions are simple – apply the 3-foot long "clam-shell" insulation segments over the pipe, and pull off the paper strip that protects the adhesive on the SSL overlap, and press against the lower segment, thus sealing the longitudinal seam. Seal butt joints between insulation segments with PMZ Tape, which includes an easy strip backing that peels off as you tape. Quick, Easy and reliable.
Additionally, PermaTherm advocates the use of our proprietary PermaCastTM coating, (only available on EPS) factory-applied over fittings such as elbows, tees, etc. PermaCast also significantly reduces field construction costs by eliminating the time-consuming application of layers of mastic and mesh around fittings, waiting for dry-time, and then fabricating a transition to the straight pipe insulation run.