COLD PIPE INSULATION SYSTEMS
COMPLETE MANUFACTURING / FABRICATION / BUNDLING / DELIVERY
PermaTherm is your single-source supplier of high-performance foam pipe insulation, vapor barriers, pipe jacketing, and accessories. As a manufacturer of EPS insulation and provider of XPS insulation and Polyiso, we factory-assemble, bundle, box and ship – minimizing time and expense.

PermaTherm has manufactured thousands of miles of EPS insulation for rigid foam pipe insulation systems. EPS and XPS have comparable thermal conductivity, but EPS has the highest R-value per installed cost. EPS insulation's thermal properties do not degrade over time, and independent tests have demonstrated that EPS insulation exhibits superior water-resistant properties and better thermal resistance. PermaTherm offers EPS foam pipe insulation in 1 and 2 lb densities, offering a greater range of choices. EPS foam pipe insulation is PermaTherm's most cost and time efficient insulation option.

XPS Insulation is a closed cell, rigid foam pipe insulation for low temperature (<168°F) chilled water and refrigeration pipe systems. The R-value (thermal resistance), compressive strength, moisture resistant, etc. will vary by density and manufacturer. XPS insulation is a better alternative foam pipe insulation than a fiberglass or mineral wool insulation.

Polyiso closed-cell rigid foam has the highest energy savings (low thermal conductivity) of any thermal insulation commonly used for insulation on cold pipes, has excellent compressive strength, and is available in a range of densities. The price of polyiso is generally between that of XPS and EPS on a board-foot basis, and requires less installed insulation accessories to achieve energy savings savings. Polyiso, like EPS, is produced as large buns that can be fabricated into large pipe insulation segments without adhesives. Polyiso is a thermoset foam suitable as mechanical insulation up to 350°F.
PERMATHERM'S PIPE INSULATION SYSTEMS
SUPERIOR
AFFORDABLE & EASY-TO-INSTALL
Single-Source Supplier for Foam Pipe Insulation
PermaTherm has been providing complete cold service insulations systems directly to your job site for over 30 years. As a manufacturer of EPS Insulation, we also provide high-quality vapor barriers, jacketing, adhesives, and finishing materials. Whether you choose, EPS, XPS insulation, or PIR for your pipe insulation project, PermaTherm will bundle, box, and ship to you to save you time and money.
Our goal is to minimize your efforts, meet your timelines and schedule, and provide you with the most cost-effective options.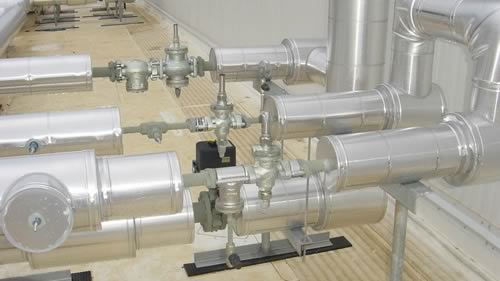 Call for reliable advice from the leading pipe insulation systems supplier
for the past 25 years.
706-623-0533
With more than 30 years of experience in the industry, PermaTherm knows that each job is truly unique; this is why we have established a network of experienced installation contractors all around the world and have created a complete system that provides everything you need to easily handle, ship and install our products.