COLD PIPE INSULATION SYSTEMS
COMPLETE MANUFACTURING / FABRICATION / BUNDLING / DELIVERY
PermaTherm provides complete, high-performance Cold Service Mechanical Insulation Systems, delivered to your job site. We offer your chosen rigid foam insulation, vapor barriers, and jacketing with all accessory insulation materials. We factory-assemble, bundle, box, and ship – – 

maximizing cost and time efficiencies.
PERMATHERM'S PIPE INSULATION SYSTEMS
SUPERIOR
AFFORDABLE & EASY-TO-INSTALL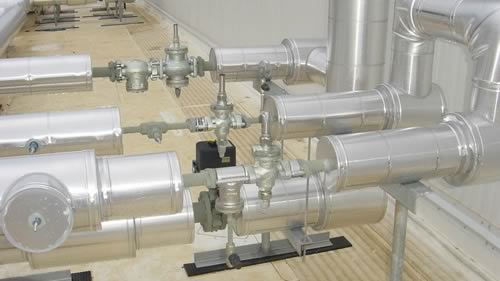 "You really should know PermaTherm? We provide complete Cold Service Insulation Systems, delivered to your jobsite, and have been doing it for 30 years. Your chosen insulant, vapor barrier, and jacketing and all required adhesives and finishing materials, quantified, bundled, boxed for ease of handling, and shipped…Saving you time and money.
PermaTherm has developed software protocols to assist clients as they develop Bills of Materials for the various requisite vapor barriers, jackets, mastics, adhesives, strapping, and so forth. We do not intend to displace the client/engineer's design calculations, yet PermaTherm can offer a valuable counter-check on the quantity and selection of materials.
We minimize your procurement efforts, we support your schedule, and we pass discounts on to you.  No other organization in North America offers PermaTherm's A to Z Approach while ensuring an independent/credible access to suppliers."
Call for reliable advice from the leading pipe insulation systems supplier
for the past 25 years.
(706) 468-7500
With more than 30 years of experience in the industry, PermaTherm knows that each job is truly unique; this is why we have established a network of experienced installation contractors all around the world and have created a complete system that provides everything you need to easily handle, ship and install our products.